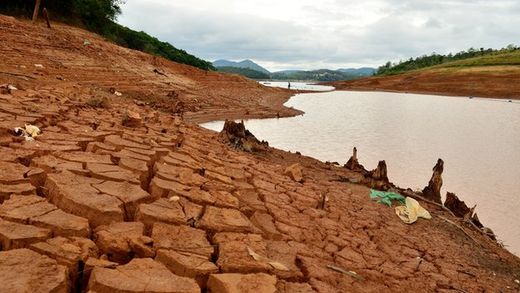 The taps have run dry and the lights have gone out across swathes of Brazil this week as the
worst drought in history spreads from São Paulo to Rio de Janeiro and beyond
.
More than four million people have been affected by rationing and rolling power cuts as this tropical nation discovers it can no longer rely on once abundant water supplies in a period of rising temperatures and diminishing rainfall.
The political and economic fallout for the world's seventh biggest economy is increasingly apparent. Protesters in dry neighbourhoods have taken to the streets, coffee crops have been hit, businesses have been forced to close and peddle-boat operators have had to cease operations because lakes have dried up.
In São Paulo - the most populous city in South America and the worst hit by the drought
- a year of shortages has cut water use in the city by a quarter since last January, but Jerson Kelman, the head of the main water company Sabesp, urged consumers to do more in helping the utility to "prepare for the worst".
"There is a significant part of the population that is not yet aware of the seriousness of the situation and refuses to change habits," he wrote in an op-ed published on Thursday. "They must be convinced to change their behaviour."
If the dry spell continues, he warned full-scale rationing would be introduced
- something the city government denied would be necessary during last year's elections.