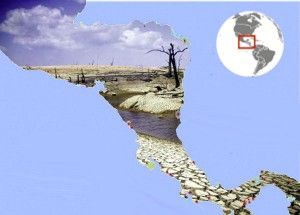 BOGOTA (Thomson Reuters Foundation) - Low rainfall linked to the El Nino weather phenomenon has led to drought in parts of Central America, causing widespread damage to crops, shortages and rising prices of food, and worsening hunger among the region's poor.
An unusually hot season and extended dry spells have brought drought to areas in eastern and western Guatemala and El Salvador, southern Honduras and northern and central Nicaragua, destroying swathes of bean and maize crops, the region's staple foods, and putting pressure on subsistence farmers and food prices.
"Extremely poor households across large areas of Guatemala, Nicaragua, Honduras, and El Salvador will experience a rapid deterioration in their food security in early 2015.
"Atypically high levels of humanitarian assistance, possibly the highest since Hurricane Mitch in 1998, will likely be required in order to avoid a food crisis," said a recent report by the Famine Early Warning Systems Network (FEWS NET), run by the US Agency for International Development (USAID).