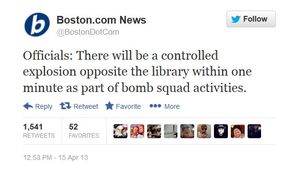 Although the gruesome sight of mangled body parts is an everyday reality in countries occupied or bombed by the U.S. military, the 'double-tap' bombing in downtown Boston on 'Tax Day', Monday 15th April, was the first terror attack on U.S. soil in 12 years.
Anyone with a couple of neurons firing will have noticed by now that the official story is riddled with inconsistencies. In fact, it makes absolutely no sense at all. In fact, there is no 'official story'; U.S. authorities have clearly just been making stuff up as they go along, hoping that the emotional trauma of a terrorist attack will suffice to 'win the hearts and minds of the American people'.
So far it appears to be working, but when we discussed this on a recent SOTT Talk Radio show, we had a few callers who were completely exasperated with the contradictory, incomplete, and simply unbelievable accounts of last week's events in Boston.
It was a strange week in more ways than one. It was the 20th anniversary of the Waco Massacre. It was the 18th anniversary of the Oklahoma City Bombing. It was the 14th anniversary of the Columbine School Massacre. And the bombings happened on the 238th anniversary of the opening shots in the American Revolutionary War.
Coincidences? Or by design?
And what on Earth careened into the town of West, Texas, just north of Waco and within miles of the Mount Carmel site of the Branch Davidian compound that was burned to the ground by the Feds in 1992? The explosion at a fertilizer depot on Wednesday 18th April killed three times as many people as the Boston Bombings just two days before... was someone sending the bombing perpetrators a message?
Listen to find out more...
Running Time:
02:35:00
Download:
MP3