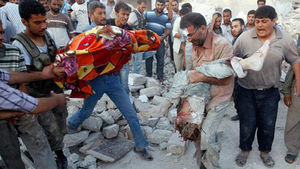 With the U.S. poised to lead yet another bombing campaign, this time against Syria, a sense of deja-vu is hanging in the air. President Obama tells us it will be a quick two-day airstrike to knock out Syrian defenses and end the country's 'reign of terror led by the brutal dictator Bashar al-Assad'. The bad guys will be defeated and the good guys can award themselves peace prizes for making the world a safer place.
This grand narrative is, of course, all complete and utter horse-hockey. This week on SOTT Talk Radio we'll be taking a closer look at the alleged chemical weapons attack that precipitated the major recent upswing in bellicose war rhetoric. WMDs, evil dictators killing their own people, UN inspectors, quick little 'humanitarian' wars... we've heard it all before, we know what it led to and what was really behind it.
It's easy enough to see through the propaganda the American, British, French and Israeli governments 'catapult' out there to justify and reinforce the Big Lie that is the 'clash of civilizations'. We wonder though, with signs of major global climatological and environmental upheaval now manifesting daily, if there's a primary underlying reason for launching another major, and extremely risky, war that might easily become a regional or global war.
Do the Powers That Be know that 'something wicked this way comes'? And are they trying to deliberately embroil humanity in the chaos of war in an effort to distract us from the very real and present danger posed by incoming space rocks?
Running Time:
02:21:00
Download:
MP3