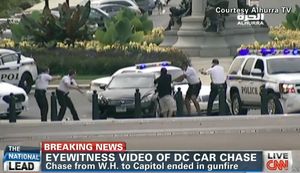 In the following SOTT Talk Radio show from October 20th 2013, we discussed high drama in high places, the all-too-brief rise and fall of the Ride for the Constitution protest in Washingotn, DC, ongoing climate chaos and incoming meteor fireballs from space.
We took a look at the contrived theatre of Republicrats dogging it out on the political stage in the first US 'government shutdown' in 20 years, while a drama unfolded in which a mother with her young child in her car was accused of "ramming the White House gates" and ended up riddled with bullets near the Capitol building.
Meanwhile spectacular fireball sightings throughout the Fall produced some notable overhead explosions in the U.S. You know folks are noticing that something is 'up' when Anderson Cooper dedicates an episode of
60 Minutes
to the topic of "cosmic roulette"...
Running Time:
02:09:00
Download:
MP3