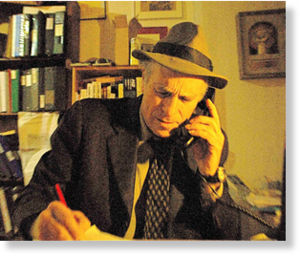 Greg Palast
is an investigator of corporate fraud and racketeering turned journalist, and a man that members of the 'elite' love to hate. War criminal Tony Blair labeled him a liar, a White House spokesman simply stated "we hate that sonovabitch", but to the rest of us, Palast is one of the most important investigative reporters of our time who deserves our appreciation for his untiring work in exposing the unbelieveable levels of corruption that define modern political and corporate policies.
As part of his investigation into the 2000 US Presidential election, Greg uncovered evidence that Florida Governor Jeb Bush, Florida Secretary of State Katherine Harris, and Florida Elections Unit Chief Clay Roberts, along with the ChoicePoint corporation, rigged the ballots in 2000 and that there was widespread election fraud again in 2004.
Palast is the author of New York Times bestseller
The Best Democracy Money Can Buy
, as well as
Democracy and Regulation: how the public can govern essential services
, and
Armed Madhouse; undercover dispatches from a dying regime
. His documentary films include:
Bush Family Fortunes
,
The Assassination of Hugo Chavez
,
Billionaires and Ballot Bandits
and
Vultures and Vote Rustlers
.
His latest book is
Vultures' Picnic: In Pursuit of Petroleum Pigs, Power Pirates and High-Finance Carnivores
(2012).
A fascinating conversation with a very rare breed of human being. Don't miss it.
Running Time:
01:47:00
Download:
MP3