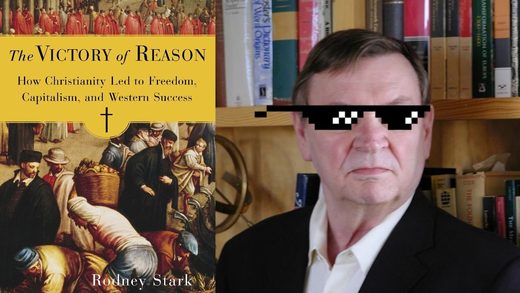 Everyone is by now well aware, whether through personal experience or vicariously via the news, of the toxic legacy of Christian fundamentalism. Whether it's authoritarian dogma or the many scandals that have plagued the Catholic church, many so-called 'Christians' have given plenty of ammo to their accusers. Meanwhile individuals are largely left to fend for themselves in a society that was founded on Christianity but that is overwhelmingly nihilistic and materialistic, denying its own history in the process.
So today, on MindMatters, we discuss those aspects of the Christian belief system that may well be worth keeping and that have definitively shaped our world. Using sociologist of religion Rodney Stark's book
Victory of Reason: How Christianity Led to Freedom, Capitalism, and Western Success
, we discuss how Christian beliefs formed the moral matrix of the Western mind from the collapse of Rome onwards. As Stark argues, centuries of belief in free will and individual responsibility in an intelligently designed universe provided the primary impetus for the West to abolish slavery, institutionalize science, use capitalism to improve the lot of the common man, and even pursue the freedom to repudiate Christianity itself.
If he's correct, then losing sight of what these Christian beliefs once stood for (and no they're not just 'fairy tales and dogmatic superstitions') we lose sight of the higher motivation that led ordinary people to found these great enterprises - arguably the few positive aspects of Western society left. So, while today it is fashionable to deny that consciousness exists, and that beliefs can have any impact on reality, today we will be entertaining a different hypothesis - that what we believe matters, and that, in order to understand our history, we should understand the good inherent within Christianity and not just the bad.
Running Time:
01:07:09
Download:
MP3
- 61.5 MB