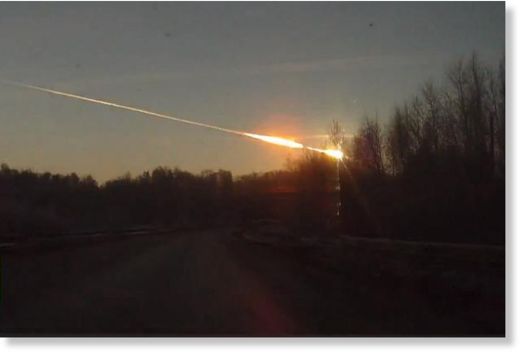 The final tally of injured people from the overhead cometary airburst in Russia last February 15th stands at 1,500. It's a miracle no one was killed. But will we be so lucky next time? The explosion above the city of Chelyabinsk was the largest since the 1908 Tunguska airburst, also in Siberia. What are we to make of the fact that this recent blast happened 12 hours before another asteroid about twice as large was scheduled to pass Earth by in 'the closest fly-by ever'?
This week hosts Joe and Niall sat down with Jason Martin and Laura Knight-Jadczyk to discuss this freak event.
But was it really a freak event, a 'coincidence', as NASA reassured us? If they didn't see this one coming, will they see others coming? In fact, there is strong evidence that, over the course of human history, repeated cometary bombardment from space has wiped the slate clean on our little planet. These cleansing events were naturally terrifying for people who lived through them. In time, the progenitors of those who survived rebuilt civilizations anew and eventually the horrors of the past were forgotten.
Running Time:
02:14:00
Download:
MP3