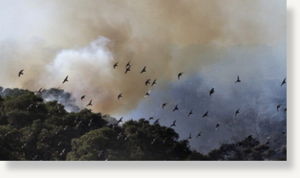 Honolulu - Specialized firefighting teams Wednesday battled a remote wildfire touched off by the eruption of the Kilauea volcano on Hawaii's Big Island, which has burned some 2,000 acres of national park land.
The fire threatens a fragile, protected rain forest, officials said.
Authorities do not know when they will be able to contain the spreading fire, which was being fanned by strong, gusty trade winds, said Gary Wuchner, a spokesman for the National Park Service.