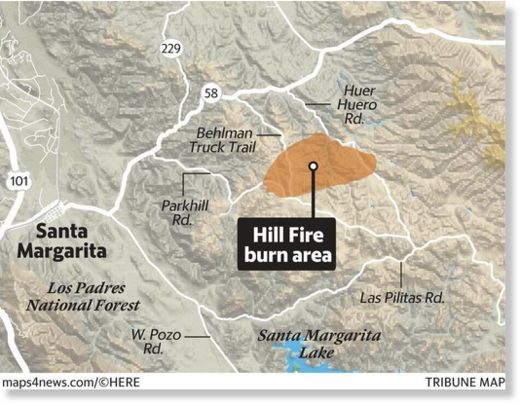 Firefighters in San Luis Obispo County made significant gains against a wildfire burning east of Santa Margarita that has
forced residents to evacuate about 100 homes
, officials said Tuesday. The Hill fire is burning in an area dotted with secluded homes surrounded by hills. Many areas are blanketed in 12-foot high grass and dried-out vegetation, said Chris Elms of the California Department of Forestry and Fire Protection.
The
blaze has scorched about 1,500 acres
and was 40% contained Tuesday morning thanks to a dip in temperatures overnight and increased humidity, Elms said. "Last night was about getting in as many resources as we could and taking advantage," Elms said. About 1,200 firefighters are expected to be in the area by the end of Tuesday, Elms said.
The fire is burning in steep terrain and in light vegetation that burns easily and quickly. The flames ran southeast Monday afternoon and destroyed one structure though authorities can't say whether it was a home or smaller building, Elms said.