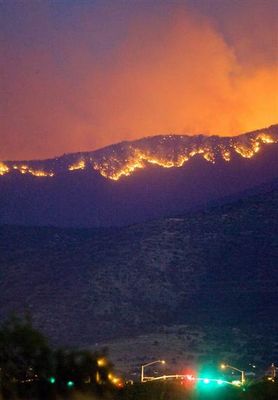 Residents on the outskirts of Sierra Vista, Ariz., were told to evacuate Thursday, after 40-foot flames jumped a highway and high winds briefly grounded an air attack.
The wildfire in southern Arizona's Coronado National Forest is within 10 miles of Sierra Vista, population 40,000, and has destroyed or damaged at least 40 houses and 10 other structures over 14 square miles, or 9,500 acres.
Hundreds of residents in canyon areas outside the city had evacuated over the previous two days and more than 500 firefighters are attacking the blaze.
During the peak burning time Thursday afternoon, the fire is "probably going to look like a bomb went off," said fire information officer Dale Thompson. The next three days will be tough on the fire lines because of the winds gusting up to 40 mph, he said.
Officials on Thursday closed off a 12-mile stretch of State Route 92 due to the conditions. One county official driving along a still open section of SR 92 said he saw flames as tall as 40 feet on either side of the highway Thursday afternoon.
Winds and searing temperatures also were to move into New Mexico, where firefighters battling a blaze that surrounded Carlsbad Caverns National Park had it 70 percent contained and it was no longer threatening the park's visitors center and employee housing. The fire started Monday, charred about 30,500 acres of desert scrub and forced the park to close.
Interstate 25 reopened at 4 a.m. Thursday after being closed for four days because of the wildfire near Raton, N.M. However, Exit 454 in New Mexico and exit 2 in Colorado were to remain off limits Thursday because of the blaze burning on about 26,000 acres. Some nearby residents were able to return home Wednesday.