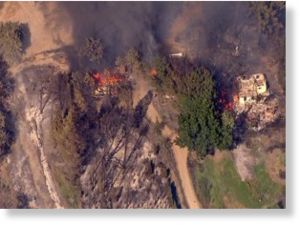 A wildfire has scorched more than 300 acres and a mobile home in the Cajon Pass Monday afternoon.
The wildfire began on Interstate-15 in the Cajon Pass between Kenwood and Cleghorn at approximately 1:00 p.m., according to San Bernardino National Forest spokesman John Miller. Officials say two structures have also burned.
Crews have contained about 40 percent of the brush fire.
Caltrans says only three of five northbound lanes of I-15 are open and there is a heavy backup. The southbound side is fully open but is also experiencing spectator delays.
Authorities said no one has been injured. Two residents at the Matthews Ranch were asked to evacuate but refused.