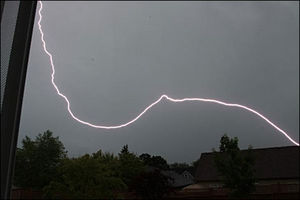 While many of Oregon's forest protection districts have not formally entered wildfire season, Nature made an unofficial declaration of its own during the past week. A barrage of more than 24,000 lightning strikes ignited fires across the central and southwestern regions of the state. The Oregon Department of Forestry's firefighters and private forest landowner resources have been busy extinguishing the fires.
In the Oregon Department of Forestry's (ODF) Southwest Oregon District, 32 lightning-caused fires have been reported, with the largest about five acres.
"This one occurred in the Applegate drainage," ODF's Greg Alexander said. "On the first day of the storms, it was very dry, and then we had some moisture in the following days."
He said the district has experienced lightning daily from May 29 to the present. Reports of fire continue to trickle in, with three new ones detected on Wednesday.