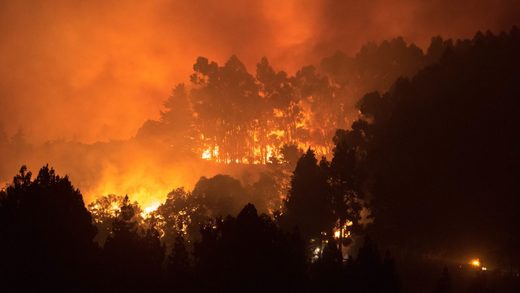 Thousands of people have been evacuated from dozens of towns on Gran Canaria as firefighters battle to contain out-of-control wildfires.
The fires, which broke out on Saturday for the
second time
in a week, have forced around 4,000 people to evacuate at least 40 towns near Valleseco, a town situated on the north of the popular tourist island.
They had spread in two different directions and razed more than 1,700 hectares (4,200 acres) by Sunday afternoon, according to the island's provincial government.
There is currently a huge operation under way involving nine helicopters, two planes and 600 emergency responders to control the fires, which officials say has "great potential" to spread further.
Angel Victor Torres, the Canary Islands' regional president, told a news conference that the blaze was neither "contained nor stabilised or controlled".