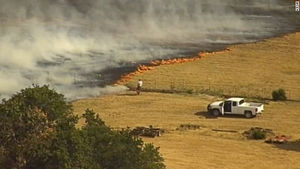 Low humidity and strong winds Friday helped fuel a half-dozen wildfires in Oklahoma that have so far burned at least 65 structures and are threatening more.
The largest of the fires is just south of Oklahoma City in Cleveland County, according to Jerry Lojka, spokesman for the department of emergency management.
"The metro area is not in danger, but there are still homes out there, and there are subdivisions that are in those wooded areas," he said.
Twenty-five structures have burned in Cleveland County, according to Kelli Cain, another spokeswoman at the emergency department. Roughly 100 or so homes there are threatened.