Bastrop - More than 1,000 homes have been destroyed in at least 57 wildfires across rain-starved Texas, most of them in one devastating blaze near Austin that is being blamed for two deaths, officials said Tuesday.
Bastrop County Sheriff Terry Pickering said Tuesday he had no details about the deaths. On Sunday, a 20-year-old woman and her 18-month-old daughter were killed Sunday in an East Texas blaze.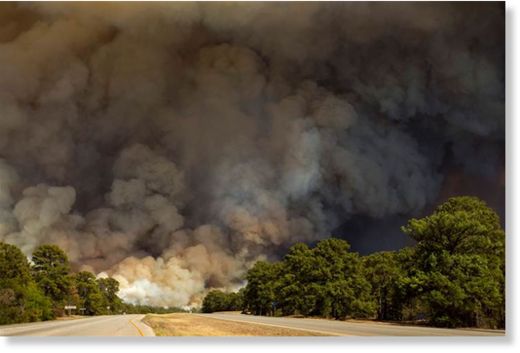 Gov. Rick Perry, who cut short a presidential campaign trip to South Carolina on Monday to return to help oversee firefighting efforts in Texas, told NBC's
Today
that the fires were "a long way" from being under control and described the effect on people who had lost their homes as "devastating."
Texas Forest Service spokeswoman Victoria Koenig said it is too early to say how much progress was made fighting the wildfire in Bastrop County overnight, but that there were no winds early Tuesday. The fire enveloped at least 25,000 acres Monday.
"It's encouraging we don't have winds right now, not like yesterday," Koenig said early Tuesday morning.