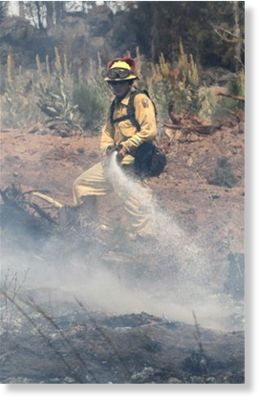 Aided by a shift in wind direction, firefighters made a stand against a huge lightning-sparked wildfire burning on the edge of three small Northern California towns. The blaze, which has destroyed seven homes and threats continued to threaten thousands of homes, as fearful residents sought safety miles away at an emergency shelter. The fire that started Saturday had grown to more than 30 square miles and was 35 percent contained Tuesday morning.
"All we can do is pray," evacuee Jerry Nottingham told reporters. Still, with more firefighters arriving on the scene and shifting winds helping to keep the blaze away from homes, officials said fire crews were able to improve their lines around the wildfire. "We definitely made some good progress today building around this fire," state fire spokesman Daniel Berlant said late Monday.
The fast-moving Ponderosa Fire was one of many burning across the West, where lightning, dry temperatures and gusting winds have brought an early start to fire season.
Nearly 1,900 firefighters were battling the blaze in rugged, densely forested terrain as it threatened 3,500 homes in the towns of Manton, Shingletown and Viola, about 170 miles north of Sacramento.
"These are the largest number of homes we've had threatened so far this year," state fire spokesman Berlant said. "The grass, brush and timber up here are so dry, and once the lightning with no rain struck, the flames began to spread quickly."
Melted satellite dishes, the remains of burned furniture and charred refrigerators could be seen in some homes in the rural area.