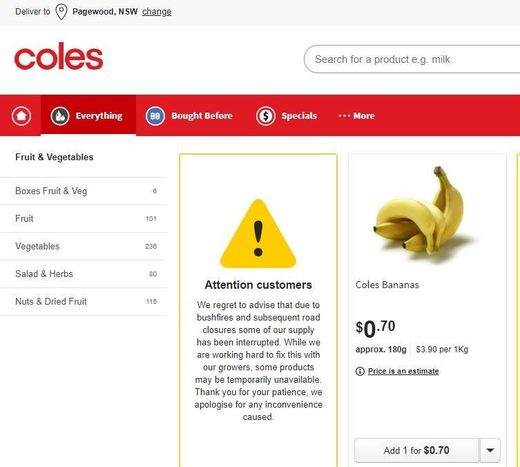 Australians at supermarket checkouts could be the next to feel the effects of the wild weather that has decimated entire crops and limited the supply of goods. Here are some of the products you may need to budget a higher price tag for in the next few months.
The ongoing
bushfires
that have been ravaging the country since September 2019 - combined with a prolonged and severe drought in many areas - have weighed heavily on farmers and the delivery of fresh food and will result in short-term price increases on fruit and vegetables, according to vegetable industry association AUSVEG.
In fact, people who shop for their
groceries online
with Coles may have already noticed some items are unavailable due to "bushfires and subsequent road closures".
Industry experts and the government have said that in addition to fruit and vegetables, a number of other products such as honey, milk, wine and meat could go up in price as well.
And it doesn't come at a great time, given people are feeling less motivated to spend while their fellow Australians are suffering, according to AMP Capital Chief Economist Shane Oliver.
"The constant terrible news since October about the bushfires along with the smoke in cities is likely weighing further on the national psyche adding to weakness in consumer spending," Dr Oliver said earlier this month in an
analysis
of the bushfires' impact on the Australian economy.
Wild weather events have continued since he made that point, with widespread rainfall giving the fireys some reprieve, but also bringing
massive hail, floods and dust storms
.
AUSVEG and other groups have urged Australians who can afford to do so to keep buying produce to support farmers and regional communities in their recovery from these events. The Australian Government has so far made
grants
of up to $75,000 available for farmers and other primary producers who have been impacted by the fires.