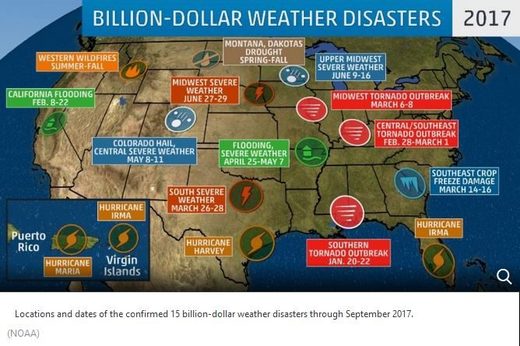 A new record for the number of billion-dollar natural disasters in the United States may be set this year, with 15 such events already confirmed through September.
There were
12 billion-dollar weather disasters that began during the first half of 2017
, and hurricane season has brought three storms that resulted in massive damage, including
Harvey
,
Irma
and
Maria
. The official damage costs are not available yet for these storms but are expected to be billion-dollar weather disasters, according to NOAA's National Centers for Environmental Information (NCEI).
Tornado and severe thunderstorm events have made up the largest share and have added seven billion-dollar weather disasters to the list.
Two flooding events are also on the list: one in Missouri and Arkansas in late April early May and one in California in February. On the other side of the precipitation spectrum, the ongoing drought in Montana and the Dakotas has already reached more than $2 billion.
Rounding out the list is the severe March freeze in the Southeast that was preceded by unusually warm temperatures, resulting in $1 billion in damage to crops, and the wildfires in the Northwest.
In addition to the economic impact, these 15 events have resulted in the deaths of nearly 300 people.
Through September, 2017 is now tied with 2016 for the second-most billion-dollar disasters in a year, according to NOAA's database, which dates back to 1980. The year with the highest number of billion-dollar weather disasters is 2011, which had 16.