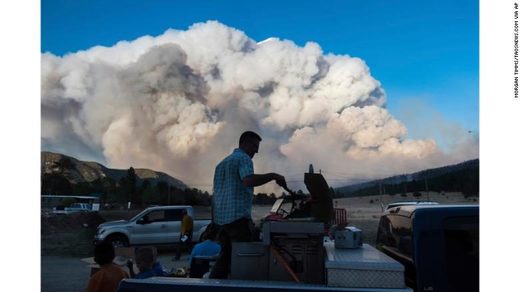 Massive wildfires in Colorado and New Mexico have torched thousands of acres and forced hundreds to evacuate their homes. A blaze known as the 416 Fire in Colorado's La Plata County has burned 1,100 acres, US Forest Service spokesman Jim Mackensen told CNN on Saturday.
The fire, about 15 miles outside the town of Durango, is 0% contained and has forced the evacuations of 1,500 residents, Mackensen said. No structures have been destroyed, he added.
By Friday evening, the blaze had prompted La Plata County Manager Joanne Spina to declare a state of local disaster.Grass, brush and timber continued to fuel the fire on Saturday morning.
The fire broke out on the west side of US 550, according to a Forest Service update posted on
InciWeb
, a government-operated multiagency fire response site. That highway is closed as firefighters work to prevent the fire from crossing it.