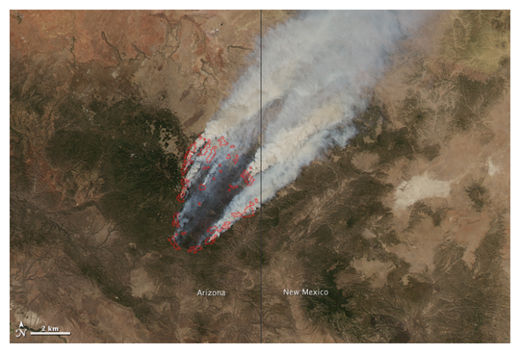 After several days of extreme fire behavior, the Wallow Fire has become the second largest fire in Arizona history. By early afternoon on June 8, 2011, the fire had consumed 389,000 acres (608 square miles), largely in the Apache National Forest, and was completed uncontained. This image, taken by the Moderate Resolution Imaging Spectroradiometer (
MODIS
) on the
Aqua
satellite, shows the fire at 1:25 p.m. local time.
The actively burning fire front (outlined in red) surrounds a vast area of charred land. High winds propelled the fire, igniting spot fires as much as three miles ahead of the fire front on June 8, said the Arizona Emergency Information Network. Dense plumes of smoke billow from the fire and stream northeast in the strong winds that drove the flames. The smoke has been
affecting air quality
through much of the United States.