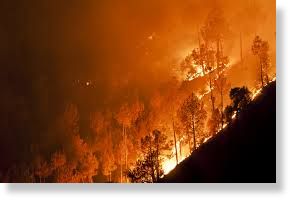 Authorities in Khotang are yet to tame a wildfire that has been raging in Kalika Bhagawati Community Forest in Dumre, Dharapani, for the past three days, much to the chagrin of people living near the forest.
According to locals, the wildfire had begun from Dumre Dharapani-5 and 7-based jungle on Monday afternoon. It had spread to wards 6, 8 and 9 of the forest area by Wednesday.
The community forest is spread over 409 hectares and according to inspector Ramesh Dev of Khotang district police office.
Virtually the entire forest has been engulfed by the fire, putting nearby settlements like Magargaun of Dumre Dharapani and others at risk.
Though the locals and the police are attempting to stop the fire from spreading, their attempts have failed so far, said a local.
"Locals and a team led by Dumre Dharapani's Assistant Sub-inspector Dhanlal Shrestha have been trying to control the fire for the past three days but to no avail," said local Ganesh Ghimire.