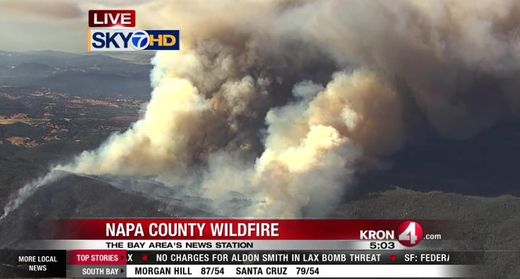 The Butts Fire burning in the North Bay has spread from Napa County into Lake County early Wednesday morning. Smoke from the
3,200 acre wild fire
can be seen across much of the northern and central parts of the Bay Area.
By Wednesday morning, the fire remained just 30% contained.
About 200 homes are part of the mandatory evacuations that remain in effect from the west side of the 7800 block of Butts Canyon Rd to north of Snell Valley Rd including the Berryessa Estates.
"Right now they're not bad," one Calfire worker tells
KRON 4′s
Jackie Sissel Wednesday morning. "Yesterday they looked pretty bad with the wind. It looks like it is a fuels driven fire with the drought that we're experiencing now."
The fire broke out early Tuesday afternoon off Butts Canyon Rd in Pope Valley. That's about ten miles southeast of Middletown. Aetna Springs Road is now closed in the area. Butts Canyon Road is also closed between Snell Valley and Aetna Springs roads.