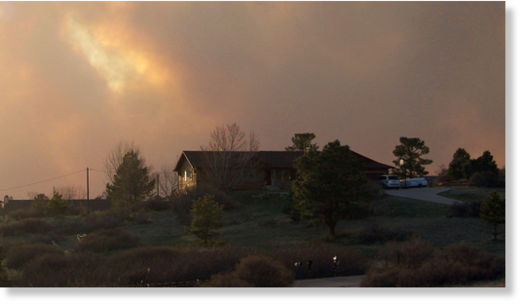 US: Conifer, Colorado - One person has been found dead in a Colorado wildfire that burned more than 4½ square miles and destroyed at least five homes in the mountains southwest of Denver, authorities said Monday.
The victim's name wasn't immediately released and investigators haven't said how the person died.
The fast-moving wildfire was reported at midday Monday and spread quickly amid dry, windy weather.
"We're in a defensive mode, structure protection only," Jefferson County Sheriff's spokeswoman Jacki Kelley said. "We're not really fighting the fire right now."
Kelley said authorities don't know how many houses were lost but said it was at least five and probably more than 10.
Authorities ordered residents of more than 900 homes to evacuate.
There were no other reports of injuries, but a sheriff's deputy who was alerting residents to leave was trapped in his patrol car after he inadvertently drove into a ditch in the thick smoke, Kelley said. He summoned help by radio.
Up to a dozen smaller fires were reported from the northeast Colorado plains to the southern part of the state. There were no immediate reports of injuries or structures destroyed in any of the other fires.