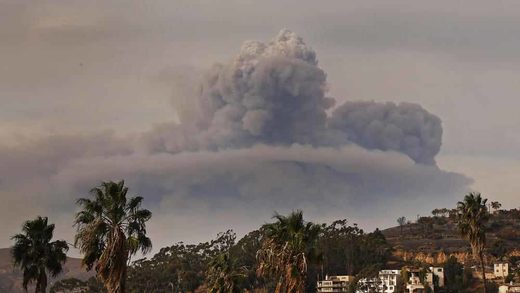 Santa Barbara County was under siege from the Thomas fire Sunday as fire crews fought to keep the destructive blaze from the region's picturesque beach communities.
Authorities said the out-of-control blaze had scorched 230,000 acres by Sunday evening, making it the fifth largest wildfire in modern California history.
The fire grew by more than 50,000 acres during the day, triggering new evacuation orders for about 5,000 county residents, including those east of Mission Canyon and north of Highway 192. An additional 30,000 residents west of Mission Canyon to Highway 154 and south of Highway 192 to the county line were told to prepare to leave.
As the fire grew Sunday, containment dropped from 15% to 10%, authorities said.
The blaze has destroyed 524 structures and damaged 135 in the city of Ventura. In the unincorporated areas of Ventura County, 266 structures have been destroyed, while 56 were damaged. The fire consumed six structures on Sunday in beach town of Carpinteria, authorities said.
Santa Ana winds, aided by extremely low humidity, pushed the Ventura County fire over the Santa Barbara County line Saturday night. The winds that bedeviled fire crews from San Diego to Ojai last week were gusting at speeds of up to 35 mph, fire officials said.