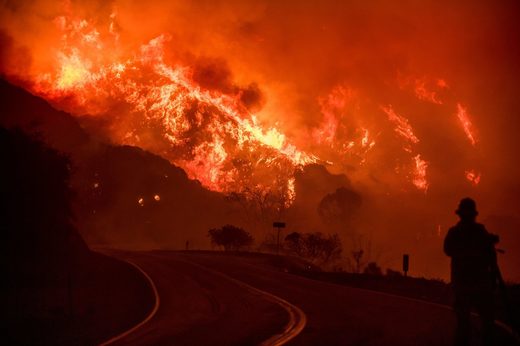 A week of destructive fires in Southern California is ending but danger still looms.
Well into what's considered the wet season, there's been nary a drop of rain. That's good news for sun-seeking tourists, but could spell more disaster for a region that emerged this spring from a years long drought and now has firefighters on edge because of parched conditions and no end in sight to the typical fire season.
"This is the new normal,"
Gov. Jerry Brown warned Saturday after surveying damage from the deadly Ventura County fire that has caused the most destruction.
"We're about ready to have firefighting at Christmas. This is very odd and unusual."
Even as firefighters made progress containing six major wildfires from Santa Barbara to San Diego County and most evacuees were allowed to return home, predicted gusts of up to 50 mph (80 kph) through Sunday posed a threat of flaring up existing blazes or spreading new ones. High fire risk is expected to last into January.
Overall, out-of-control fires have destroyed nearly 800 homes and other buildings, killed dozens of horses and forced more than 200,000 people to flee flames that have burned over 270 square miles (700 square kilometers) since Monday.
One death, so far, a 70-year-old woman who crashed her car on an evacuation route, is attributed to the fire in Santa Paula, a small city next to Ventura where the fire began.
Firefighters were on high alert for dangerous fire potential even before the first blazes broke out. On Dec. 1, they began planning for extreme winds forecast in the week ahead.