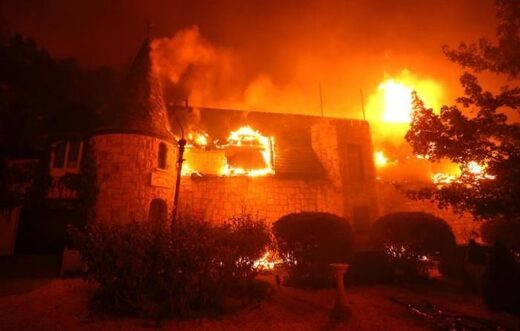 Thousands of residents have been forced to flee their Northern California homes in recent days as
the fast-moving Glass Fire
continues to grow.
The fire has tripled in size since it began Sunday, burning 36,236 acres and having 0% containment,
Cal Fire Division Chief Ben Nichols said at a Monday evening press conference. The Glass Fire sparked in Napa Valley early Sunday morning around 4 a.m. PT,
growing at a rate of around 1 acre every five seconds between Sunday night and Monday morning,
according to satellite images from the National Oceanic and Atmospheric Administration.
More than 70,000 people have been ordered to evacuate in Sonoma and Napa counties.
At least 21 people have been treated at hospitals for burns, according to local hospitals in the area. A red flag warning remains in effect for the region until 9 pm local time Monday.
Flames tore through vineyards and structures near St. Helena, roaring over hills and jumping across both the Silverado Trail and the Lodi River,
despite fire crews efforts to contain it, according to
CNN affiliate KPIX
.