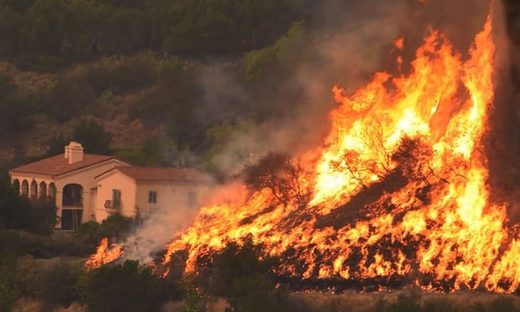 It's still wildfire season in California. If you're wondering when the season ends, it's November 20th, although as you may have noticed, it's still going strong. In fact, for the last decade or so, California's 'new normal' is that wildfires continue erupting
for an extra two months
, and this year they may burn well past that into February.
New evacuation orders were issued this past weekend in Santa Barbara County, making downtown Santa Barbara
a virtual ghost town
as the Thomas fire moved closer. Wind gusts of up to 60mph pushed what is now
the
third-largest wildfire in California's history
towards Montecito, the wealthiest city in Santa Barbara County. The rich and famous - like Oprah Winfrey and Ellen DeGeneres - have fled too, but fear not,
their homes are less likely to burn
because
they pay private insurance to hire private 'concierge firefighters' to protect their homes
.
Fire officials said Saturday that the Thomas fire, which started December 4, had now burned nearly
105,000 hectares (400 square miles)
, leaving a footprint larger than those of some cities. The fire is said to be about 40 percent contained, but fire officials added that about 18,000 structures remain threatened, and that high winds could kick up new blazes by flinging embers far from the heart of the inferno.