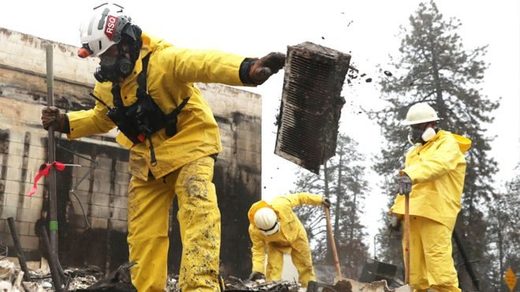 Rain has come to northern California, helping to contain deadly wildfires but bringing fears of mudslides that may complicate recovery efforts.
Some four to six inches of rain (10-15cm) are expected to fall in the coming days, and some areas have been warned to prepare for flash flooding.
At least 80 people died in the fires that swept across the state.
More than 500 people remain unaccounted for after the so-called Camp Fire destroyed the town of Paradise.
Workers have been combing through the debris from more than 10,000 homes that were burned down by the fire.
The rain that began to fall on Wednesday is the first significant downpour for the state in about six months.
It came as a relief to those less affected by the fires. By Wednesday afternoon,
it had cleared smoke from the air that had closed many schools in San Francisco, the New York Times reports.
Jim Mackensen of the US Forest Service said the rain would slow the spread of the wildfires "to the point that we'll be able to finish up the firefighting operations pretty quickly".