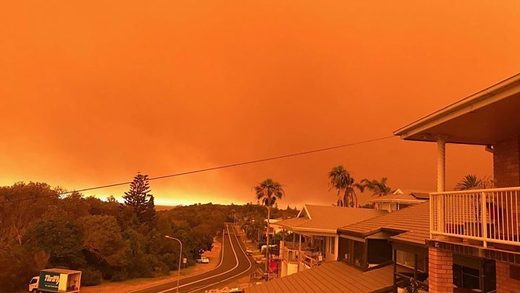 Visitors who were told to evacuate a vast area along the NSW south coast before even worse fire conditions return stuck for hours in gridlocked traffic
Tens of thousands of people remained stranded on Thursday evening while attempting to flee bushfire-ravaged areas of the south-east Australian coast - having earlier been urged to leave before the return of extreme and dangerous weather conditions.
The mass evacuation of communities in New South Wales and Victoria is among the largest ever emergency movements of people in Australia.
The numbers fleeing the bushfire crisis remain unclear, but are expected to compare to the 60,000 people who were flown out of Darwin after Cyclone Tracy in 1974.
Visitors told to flee a vast evacuation area along the NSW south coast reported sitting in gridlock for up to 10 hours after responding to the order to evacuate, as further outbreaks of fire and sheer weight of traffic blocked escape routes north of Ulladulla and near Cooma in the Snowy Mountains.