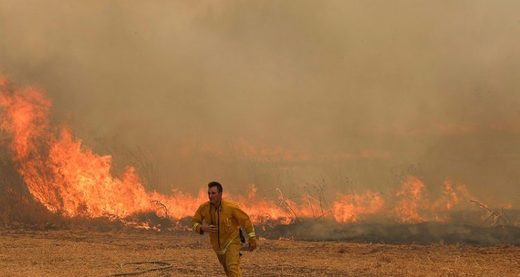 Extreme heat caused fires to rage across Israel on Wednesday, as police evacuated residents throughout the country from hundreds of homes, 15 of which caught fire.
A fire broke out mid afternoon in a parking lot in Jerusalem's Malha neighborhood, setting 10 cars aflame. Within 45 minutes, the Fire and Rescue Services brought the blaze under control, preventing it from spreading to nearby vegetation and buildings.
The Aderet and Roglit settlements close to Jerusalem, and the Shavei Shomron settlement in the West Bank, were evacuated due to fires that reached houses there. Flames were eventually subdued in all three locations.
Five houses caught on fire at the Ramat Pinkas neighborhood in Or Yehuda close to Tel Aviv. Police attempted to evacuate residents while firefighters gained control of the flames. Several residents were rescued and treated for wounds at the scene.
The first massive fire broke out in the Nesher neighborhood of Haifa near the Technion-Israel Institute of Technology, forcing police to temporarily close Route 2, as the school's security forces sent an evacuation notice to students on campus. Two men suffered light injuries due to inhaling smoke and were treated by MDA personnel on the scene.