Depending upon who's talking, this year's fire season has already passed by the 2000 and 2003 seasons as the worst since 1910.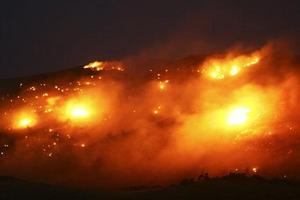 ©David Erickson / Whitefish Pilot
Scattered flames mark the eastern boundary of the Skyland Fire near the town of Heart Butte on the Blackfeet Indian Reservation on Aug 1 just after midnight.
That supposition is based on where the state is now with maybe one more month of fires ahead before a good rain or snow finally extinguishes the fires for good.
To make matters worse, seven new lightning-caused fires were detected Tuesday in the Swan Lake area, despite a light rain.