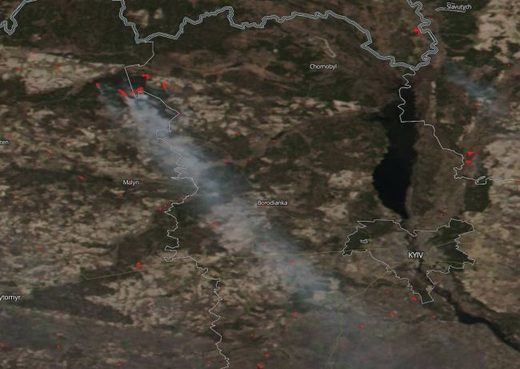 The forest near the old
Chernobyl
Nuclear Power Plant is burning, and the effects are visible from space.
The
Suomi NPP satellite
, a joint project of NASA and the U.S. National Oceanic and Atmospheric Administration (NOAA), captured a photo Sunday (April 5) of the human-caused wildfire burning in Ukraine's Chernobyl Exclusion Zone.
Radiation counts near the fire have registered 2.3 microsievert per hour, a spike from the typical 0.14 μSv/h
,
according to Live Science
.
"At this point, the fire is about 250 acres (100 hectares)," NASA officials
wrote in an image description
. "Actively burning fires, detected by thermal bands, are shown as red points."