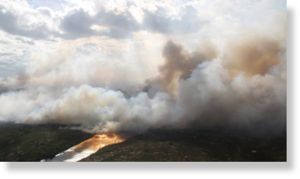 The fire situation across Northwestern Ontario remains severe. There were twenty new fires reported since yesterday. Across the province the current scope of the area covered by fires is 300,000 hectares. This is a major increase in the scope of fires and sets a new record. Evacuations of communities in the North continue. It is expected that up to 7000 people will be evacuated out of their home communities. There will be people sent, mostly through Thunder Bay to London, Ottawa, Winnipeg, Wawa, Greenstone and other communities with hundreds also expected to stay in Thunder Bay.
Assembly of First Nations (AFN) National Chief Shawn A-in-chut Atleo and AFN Ontario Regional Chief Angus Toulouse support the calls for immediate mobilization of resources by all levels of government for the safe evacuation of First Nation communities impacted by forest fires in northwestern Ontario, adding that capacity needs at the community level must be addressed to deal with immediate and long-term emergency response needs.
"The safety and security of First Nation citizens and communities is of primary concern and our thoughts and prayers are with the many people affected by the devastating fires in northwestern Ontario, particularly in Nishnawbe Aski territory," said AFN National Chief Shawn Atleo speaking today from Vancouver, where he's meeting with provincial and territorial leaders at a meeting of the Council of the Federation.