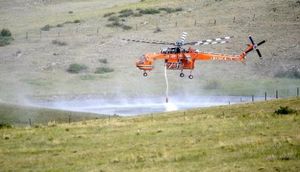 Bellvue, Colorado -- The number of homes destroyed in the giant High Park Fire west of Fort Collins jumped to 112 on Friday after fire officials were able to get a better assessment of the damage wrought by the nearly week-long blaze.
The largest number of homes lost -- 40 in all -- were in the Whale Rock area, according to Larimer County sheriff's spokesman Nick Christensen. Another 21 homes were destroyed in the Stratton Park area.
"That number will continue to grow," Christensen said.
An updated list of burned homes likely will be released Saturday after families are notified, he said. Areas currently being assessed for damage are Redstone, Buckhorn Road and Lawrence Creek, Christensen said.
This morning's official tally of burned homes was 48. The High Park Fire's containment figure of 15 percent and size of 52,000 acres didn't change at Friday afternoon's briefing.