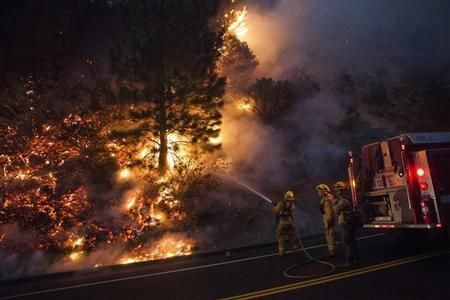 One of the largest California wildfires in decades roared largely unchecked for a 10th day through forests in and around Yosemite National Park on Monday and threatened a reservoir that supplies most of San Francisco's water.
As of midday, the eastern flank of the so-called Rim Fire had burned to within a mile of Yosemite's Hetch Hetchy reservoir on the Tuolumne River, raising concerns about the possibility of ash and soot contaminating the sprawling artificial lake.
On Saturday, flames had been no closer than 4 miles from the reservoir, which supplies 85 percent of the water consumed by 2.6 million people in San Francisco and several communities in three adjacent counties about 200 miles to the west.
Roughly 300 million gallons of water is carried to the San Francisco Bay area daily through tunnels and an aqueduct, and reservoir samples show water quality has remained healthy since the fire began on August 17, according to a spokeswoman for the San Francisco Public Utilities Commission.
"There's no evidence of a change in the water quality, and there's no change in our ability to deliver that water to all of our customers," said the spokeswoman, Suzanne Gautier.