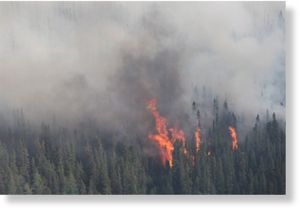 Canada: Timmins, Ontario - A raging forest fire that's spewing smoke and ash toward Timmins has jumped Highway 144 southwest of the northern Ontario city.
And fire crews report a new fire on Highway 101 southwest of Timmins has forced the evacuation of the Old Mill campground.
The city of 43,000 is under a state of emergency and officials are on high alert.
Mayor Tom Laughren says more than 225 people have been evacuated from rural communities including Hydro Bay, Kamiskotia Highway and Cooks Lake.
Many have sought shelter with the Red Cross, while others are staying with friends or family.
That's in addition to an evacuation order for the nearby Mattagami First Nation that saw 118 residents relocate to Kapuskasing.
"I think the next 48 to 72 hours, from a fire perspective, as it relates to Timmins, will be critical," the mayor said Friday.
Laughren said he hopes the skies will clear up enough to allow water bombers to take on the flames.