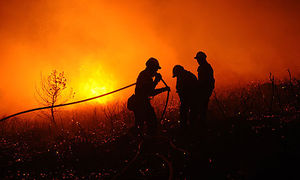 High winds fan flames and hamper firefighters' efforts in the Costa Brava tourist haven close to the French border
Three people have died after forest fires broke out in Girona province, north-east Spain.
The area in Catalonia is close to the French border and home to one of the most popular beach destinations in Spain, the Costa Brava.
Strong winds hindered firefighters' efforts on Sunday and have so far spread two fires over 13,000 hectares (22,000 acres).
A man and his 15-year-old daughter were killed after jumping off a cliff to escape the flames, while a third person died of a heart attack. El País newspaper said 19 people had been injured.
About 80km (50 miles) of roads have been cut off in the area, a big artery for holidaymakers making their way to and from southern France in the coastal province. Residents were being told to stay at home, while the winds were pushing the fires towards Figueres, a town of around 50,000 people.