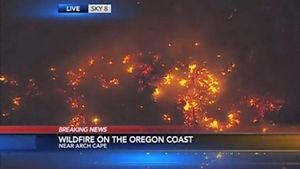 A wildfire that broke out Thursday in logging debris on private timberlands northeast of Shady Cove and grew to 125 acres was contained by fire crews over the weekend.
Oregon Department of Forestry and U.S. Forest Service firefighters have completed fire lines around most of the Alder Creek fire, ODF spokesman Brian Ballou said Monday. The fire started in piles of logging debris that were lighted in late November and early December, according to Grayback Forestry President Mike Wheelock, who also sent crews to help battle the blaze.
The fire about 15 miles up Elk Creek Road drew at least two 20-person hand crews, one bulldozer, seven engines and two water tenders.
The blaze left some areas untouched, including spots where snow remained on the ground or creeks were still frozen.
"Interesting situation, fighting fires in the wintertime,"
Ballou said.
He added
seeing a wildfire this early in the year is unusual.