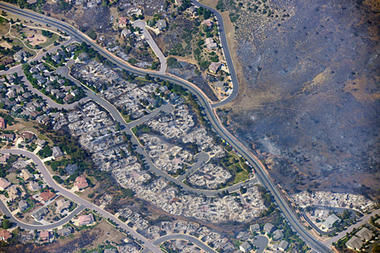 Waldo Canyon fire: No official reports on damage but the
Denver Post
says at least 300 homes were burned to the ground by the Waldo Canyon fire Wednesday in Colorado Springs.
Tens of thousands of
Colorado
residents forced from their homes by an out-of-control wildfire took refuge with friends or family and crammed into hotels and shelters as Army troops helped firefighters protect the
U.S. Air Force Academy
from the flames.
The blaze was raging early Thursday in the mountains and in Colorado's second-largest city, after more than 30,000 evacuees quickly packed up belongings and fled. The wildfire was one of many burning across the parched West that have destroyed structures and prompted evacuations in
Montana
and
Utah
.
The full scope of the fire remained unknown. So intense were the flames and so thick the smoke that rescue workers weren't able to tell residents which structures were destroyed and which ones were still standing.
Steve Cox
, a spokesman for Mayor Steve Bach, said at least dozens of homes had been consumed.