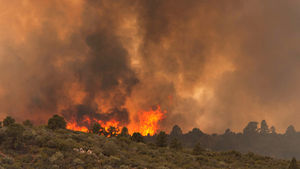 Yarnell - Local fire officials have confirmed that at least 18 firefighters have died while battling the Yarnell Hill Fire in central Arizona.
The Prescott Fire Department confirmed to MyFoxPhoenix that the firefighters,all part of a group called the Prescott Granite Mountain Hotshots, had passed away Sunday evening.
The Yavapai County Sheriff's Office has notified residents in the Peeples Valley area and in the town of Yarnell to evacuate.
Roxie Glover, spokeswoman at Wickenburg Community Hospital, told The Associated Press that the hospital has been told to expect residents with injuries and firefighters.
Earlier Sunday, the fast-moving fire prompted the evacuation of at least 50 homes in the Buckhorn, Model Creek and Double A Bar Ranch areas about 85 miles northwest of Phoenix.