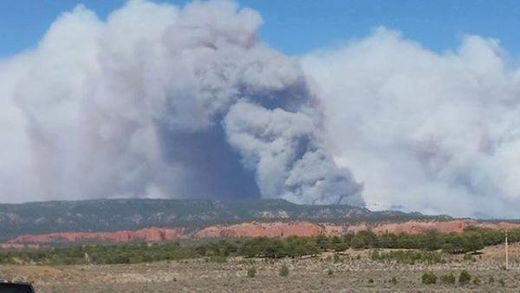 Two communities have been evacuated on the Navajo Nation as firefighters struggle to get a blaze under control, hampered by "high winds and extreme fire behavior," according to KOB News out of New Mexico.
The Assayii Lake Fire had burned 11,000 acres in the Chuska Mountains as of Monday June 16, and by nightfall the Sheep Springs and Naschitti communities were being evacuated. About 50 residences were threatened, four structures destroyed, and damage was still being assessed on Monday night into Tuesday morning, according to a press release from Southwest Incident Management Team 3.
"For safety reasons, the general public is encouraged not to travel on access roads leading to the Bowl Canyon Recreation Area," the news release said. "Road closures in the area are Rt. 134 at Sheep Springs to Crystal Boarding School and Rt. 30 at Mexican Springs."
The human-caused fire was sparked on June 13, 10 miles northeast of Navajo, New Mexico, the Incident Management Team said. The fire was being fought by 23 crews, 15 engines, six helicopters, two bulldozers and 593 personnel. About 700 firefighters were due to arrive on Monday evening, reported NBC affiliate
KOB News
out of Albuquerque, New Mexico. Wind conditions were expected to continue through Tuesday.