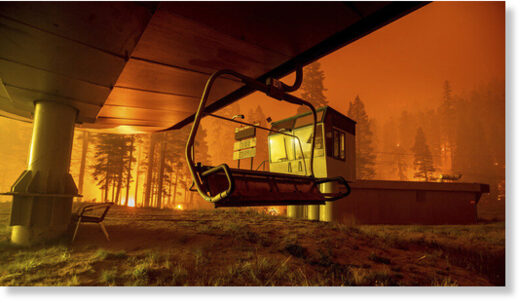 Fresh evacuation orders have been issued in the resort city of South Lake Tahoe, California, as a devastating wildfire closes in. Meanwhile, fires to the south of Los Angeles have whipped up intense tornadoes of flame.
Residents of South Lake Tahoe, a resort town on the Californian side of the lake straddling the state's border with Nevada, were ordered on Monday to head east, as law enforcement officers went door to door to make sure everyone complied.
The order was given as the Caldor Fire - one of 20 large wildfires currently burning in the Golden State - closed in.
Photos from South Lake Tahoe showed smoky air, and pictures from the Sierra-at-Tahoe resort 12 miles (19km) to the south showed firefighters, aided by the resort's snow cannons, desperately trying to hold back the inferno.