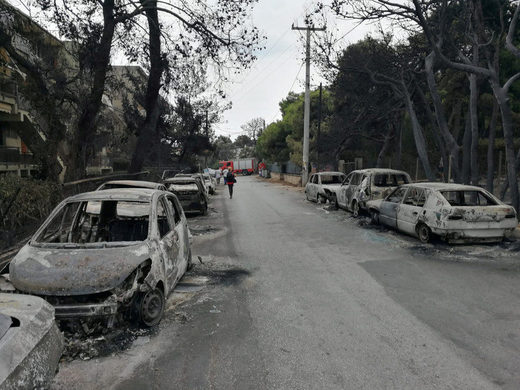 The blaze that reduced the area to the east of Greece's capital to resemble a post-apocalyptic landscape has killed 91 people, the Greek officials confirmed. The death toll is likely to rise.
According to authorities, most of these people died as a result of the fire, while some drowned in the sea after fleeing the disaster.
The Greek Fire Service said that 25 people are still missing following a horrifying human and environmental disaster that hit the country's coastline close to Athens.
The wildfires that devastated the southern European country last week were described as the deadliest in Europe since 1900, which makes them the worst such disaster in more than a century
, according the Centre for the Research on the Epidemiology of Disasters in Brussels.
The Greek authorities suspect that arson may have caused the fire and the government has come under criticism over its alleged lack of preparation for the fire season as well as over its inadequate infrastructure management.
More than 2,000 homes were damaged in the fire, Greek officials said on Friday, adding that about a quarter of these would have to be demolished. The popular seaside resort of Mati was one of the places most severely hit by the blaze.