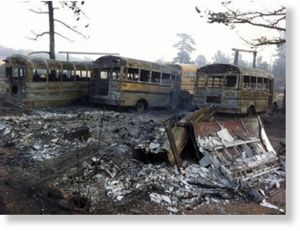 Boulder - Authorities are searching for eight people who have not been accounted for as a wildfire tore through their neighborhoods this week.
Sheriff's Cmdr. Rich Brough said Wednesday that 20 people were initially reported missing and 12 of them have been accounted for.
It's unclear whether the remaining eight were in some of the 53 homes that have been reported destroyed. Authorities are following up with family members of the missing people and checking homes in the area, and it's still possible they will be located once the checks are complete.
About 3,500 people have been evacuated from about 1,000 homes since the fire broke out Monday.
Firefighters say mapping now shows the blaze is burning on 6,168 acres, or about 9 1/2 square miles. That's about a thousand acres smaller than they had thought.
The new reports about eight people missing and the ever-changing acreage estimates have occurred as people are complaining about a lack of information from authorities about the blaze.
Laura McConnell, a spokeswoman for the fire management team, said as many as 300 firefighters are at the fire and more are on the way. She said they're dealing with downed power lines, debris, poison ivy and rattlesnakes. They also have to be watchful for propane tanks in the area.