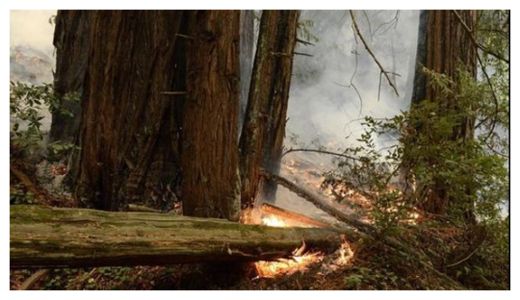 A wildfire that broke out late Sunday night along the Big Sur coast, California, burned at least 15 homes by Monday evening and forced dozens of others to evacuate, fire officials said.
The 500-acre blaze, which started near Pfeiffer Ridge Road in the Los Padres National Forest, was fueled by strong winds and was not at all contained by nightfall Monday. But fire crews were hopeful that calmer conditions could help them make progress overnight.
"Right now, the winds have died down; they were really gusting overnight and this morning," said Los Padres National Forest spokesman Andrew Madsten on Monday afternoon. "Hopefully they will get some containment lines cut now."
Smoke could be seen as far away as Monterey Bay. No injuries have been reported, and fire officials said between 50 and 100 homes were evacuated by Monday evening. The Red Cross set up an evacuation center at the Big Sur Grange.