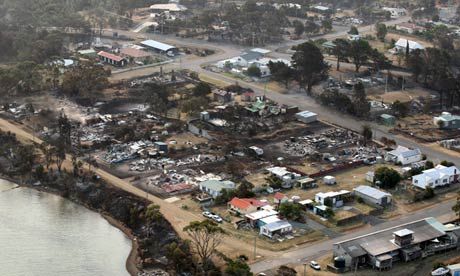 Town of Dunalley, east of Australian island's capital, Hobart, worst-hit with police station and school consumed by blaze.
Wildfires on the Australian island of Tasmania have destroyed at least 100 homes, leaving hundreds of people homeless or stranded amid scorching temperatures and high winds.
The small town of Dunalley, east of the Tasmanian capital of Hobart, was worst hit by a blaze that destroyed around 80 buildings, including the school, police station and bakery.
The Australian prime minister, Julia Gillard, said the federal government was working with local and state authorities to support those affected by the fires. "For those who have lost their homes, a devastating experience, ... we will be working with them, as will the state government to support people through," she said.
"There are media reports that a life has been lost - I'm not in a position to confirm that, but bushfires are very dangerous things."