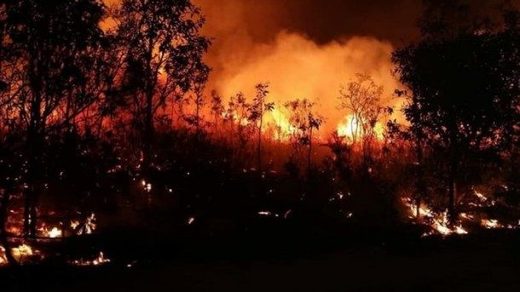 Hundreds of Australians have evacuated their homes due to bushfires amid "unprecedented" weather conditions in the state of Queensland, officials say.
About 40 bushfires are burning across the state following a heatwave, said Queensland Fire and Emergency Services.
The most serious blaze, 450km (280 miles) north of Brisbane, has destroyed at least two homes, damaged four others and prompted evacuation orders.
The conditions have been described as "highly unusual" for this time of year.
The largest bushfire is about 50km long and has burnt through approximately 11,000 hectares in the Deepwater National Park.
It began on Saturday and is expected to remain a threat in coming days. Most of the other bushfires are being contained, authorities said.
Unlike in Australia's drier south, intense fire conditions are unusual in Queensland in late November because it is the wet season.