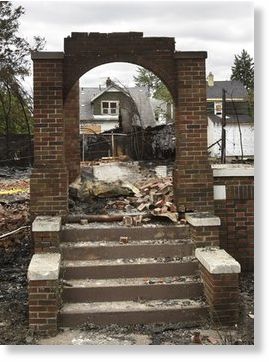 Wind-whipped flames swept through at least three Detroit neighborhoods, destroying dozens of homes, including many that were vacant, and even sending waves of searing heat blocks away, officials said.
A thick odor of smoke filled the air Wednesday after the roaring fires, fanned by winds of up to 50 mph, jumped from house to house Tuesday night. No injuries were reported.
There were about 85 fires at homes and garages over a four-hour period, said Dan Lijana, spokesman for Mayor Dave Bing.
"It was a freakish day - the wind was tremendous," said City Council President Charles Pugh.
Residents complained of a slow response by the city's emergency responders, but Pugh said the fire department did its best with the resources available.
Detroit fire Capt. Steve Varnas told the Detroit Free Press that some fires may have been caused by dead tree limbs being blown onto power lines. At least one electric company launched an investigation into possible ties between the blazes and its lines.