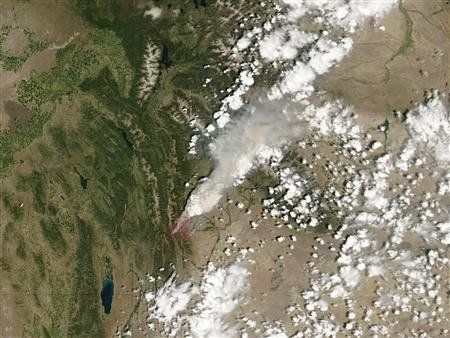 Denver (Reuters) - Investigators probing the cause of the most destructive wildfire in Colorado history have located the point of ignition but have not concluded how the blaze started, officials said on Thursday.
At its height, the 12-day-old blaze forced the evacuation of some 35,000 people in and around Colorado Springs, the state's second most populous city, and threatened the campus of the U.S. Air Force Academy before fire crews gained an upper hand late last week. It destroyed more than 300 homes and killed two people.
Since it was first reported on June 23, the blaze has burned more than 14,000 acres of drought-parched timber and brush, mostly in the Pike National Forest about 50 miles south of the Denver metropolitan area. But as of Thursday, ground crews had managed to carve containment lines around 90 percent of the fire's perimeter, said incident commander Rich Harvey.
Harvey said he anticipates full containment by late in the week as crews work to extinguish flames in a few stubborn areas. "When there's been no smoke visible and no heat detected for 24 hours, we'll be comfortable there will be no further growth and we'll call it 100 percent contained," Harvey said.