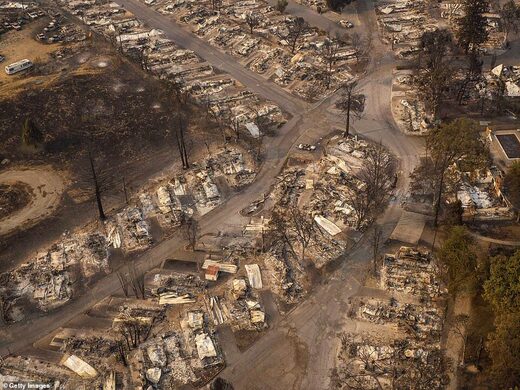 West Coast authorities have reported that at least 23 people have died in wildfires that are raging in
California
, Oregon and Washington state, as more than 500,000 Oregonians are forced to evacuate due to 100 major fires that have devastated nearly 4.4 million acres across 12 states.
A Northern California wildfire became the state's deadliest of the year Thursday when authorities announced seven more deaths. Officials said the number may rise as searchers looked for 16 missing people.
Three other deaths have been confirmed in Oregon and one in Washington state, authorities said.
Authorities in Oregon said Thursday night that more than 500,000 people statewide were forced to evacuate due to wildfires. The latest figures come from the Oregon Office of Emergency Management. That's over 10 per cent of the state's 4.2 million population.
More than 1,400 square miles have burned this week in the state. Authorities say the wildfire activity was particularly acute Thursday afternoon in northwestern Oregon as hot, windy conditions continued.