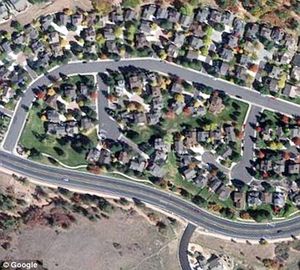 32,000 evacuated from Colorado Springs including Air Force Academy cadets as inferno spread
About 300 homes reportedly destroyed in Waldo Canyon Fire, which has been named the No. 1 priority for emergency crews
Obama to tour the disaster-stricken area on Friday to meet firefighters working around the clock
Photos of the heartbreaking devastation of the wildfires that have ravaged Colorado in the last several days have revealed piles of rubble where houses once stood before the flames engulfed the region, leaving more than 30,000 people homeless.
The photos revealed the Mountain Shadows area of Colorado Springs, where dozens of homes can be seen decimated by the fast-moving fire.
The raging wildfire that has encroached on the state's second-largest city and threatened the U.S. Air Force Academy.
Mayor Steve Bach said a more accurate account will be available later in the day of the damage from a blaze that has burned out of control for much of the week and forced more than 30,000 evacuees to frantically pack up belongings and flee.