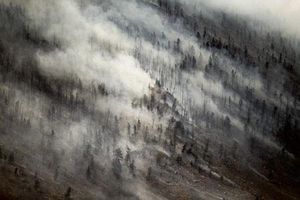 Fed by bone-dry timber and fanned by hot winds, the four major wildfires burning in Wyoming today have destroyed an unknown number of buildings and forced hundreds to evacuate.
The Albany County Sheriff's Office issued an immediate evacuation notice this morning for areas east of Sheep Mountain to Harmony Lane, and south of Lake Hattie as crews battle the Squirrel Creek Fire near Woods Landing southwest of Laramie. The notice includes the area northwest of Lake Hattie to Highway 130.
The evacuation center is the Albany County Fairgrounds. For more information, call 307-721-1801.
Authorities urged evacuees to assist neighbors if necessary.
The Albany County media release also advised that the Arapaho Fire in the county's northeast area is advancing quickly. Authorities said residents should be prepared to leave the area immediately. "This fire is moving at unprecedented rates," the release said.
The Arapaho Fire, currently the state's largest, is burning near Laramie Peak southwest of Wheatland. It had burned nearly 88,000 acres by this morning, fire spokesman Jim Whittington said.