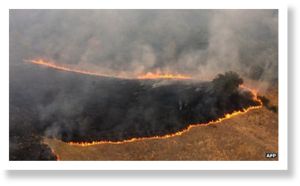 Serbia evacuated thousands of villagers on Saturday and called in the army to help fight wildfires raging through the drought-hit western Balkans.
Fires near the southwestern Serbian town of Cacak swept through hillsides and cornfields dried to a crisp by scorching temperatures, forcing the evacuation of three villages, a Reuters correspondent reported.
"I've lost everything," said Mileta Cajic, from the village of Srezojevci. "An entire orchard, woods, raspberries, and now my house is about to go up in flames. This is the worst disaster one could imagine."
Russia sent a Beriev Be-200 fire-fighting plane, with a capacity of 12 tonnes, to join a Russian helicopter that has been in action for days trying to douse the fires.