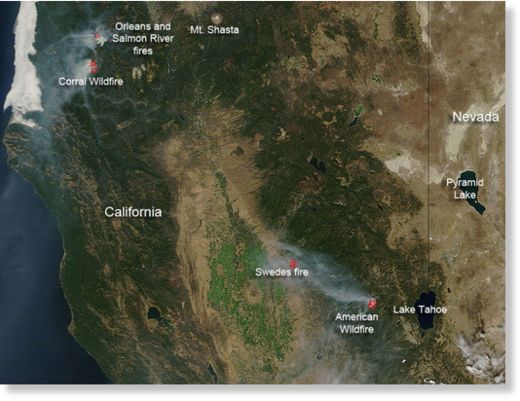 Several fires are currently raging in central and northern California. These fires can be seen in this natural-color Terra satellite image taken by the MODIS instrument on August 18, 2013.
The American wildfire began August 10, 2013 and the cause of the fire is still under investigation. To date over 13,000 acres have been affected. The growth potential for this fire is high due to terrain and weather patterns. Thunderstorms predicted over the next few days may bring additional complexity and increase the potential for new starts. The National Weather Service has issued a Red Flag Warning beginning today, through Wednesday evening, August 21. Changing weather patterns are likely to affect fire behavior and smoke dispersal patterns.
The Swedes Fire began on August 17, 2013 and grew to 1,995 acres Sunday, where it now stands. Firefighters have contained 45 percent of the blaze. The goal is to have the fire fully contained by Thursday the 22nd. Winds are erratic and change frequently, which is dangerous for residents in the area because the fire can move quickly in unexpected directions.