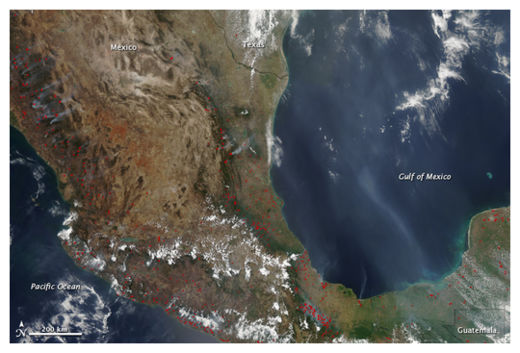 May usually marks the end of the fire season in Mexico. Sometime during the month, the first wet-season rains begin to fall, followed by a soggy five months. Yet, on May 20, 2011, when the Moderate Resolution Imaging Spectroradiometer (
MODIS
) on NASA's
Aqua
satellite took this image, the fire season was still going strong. Fires, marked in red, were burning throughout the country, casting a smoky haze from the Pacific Ocean to the Gulf of Mexico.
The widespread fires shown here are evidence of the extreme fire season 2011 turned out to be in Mexico. By May 19, more than 530,000 hectares (1,300,000 acres or 2,000 square miles) of land had burned in the country since the beginning of the year, said the Mexican government. In terms of area burned, 2011 surpassed every year since (and including) 1998, making it one of the most challenging fire seasons in 30 years.
What made the 2011 fire season so extreme? In part, the answer lies in the 2010 rainy season, one of the wettest on record.
Rains
from Hurricane Alex
flooded
northern Mexico in July, and then torrential rains caused
widespread flooding
in southern Mexico in September. All of this excess water allowed thick grass to grow. During the dry season, which begins in October and lasts through May, the grass dried, providing ample fuel for fires.