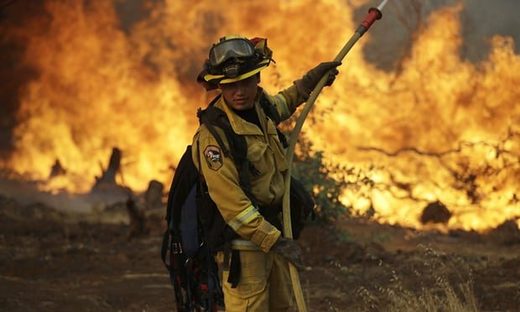 One month into California's fiscal year, the state has already spent about one-fourth of its emergency fund fighting fires across the state. Now with more than a dozen large wildfires raging and firefighting resources stretched thin, crews are on the way from as far as the East Coast.
There are now 12,000 firefighters on the lines battling 17 large wildfires, which have destroyed more than 1,000 structures and continue to threaten an additional 25,000 homes
, according to the California Department of Forestry and Fire Protection, known as Cal Fire. At least eight deaths have been attributed to the fires, which have burned about almost 240,000 acres, or about 375 square miles up and down the state.
"We're very active right now across the state with fires," said Cal Fire Deputy Chief Scott McLean. "Vegetation is so dry, especially with the winds that are coming and have been coming."
Cal Fire said Monday that hot and dry conditions have contributed to the wildfire risk statewide, including low humidity and high winds in some areas of Northern California. The southern portion of the state has baked in triple-digit temperatures in some inland areas in recent weeks.
Adding to the wildfire risk are an estimated 129 million dead trees in California forests due to years of drought and beetle infestation, according to the U.S. Forest Service.
More than 52,000 residents have been evacuated in the large fires
, according to Cal Fire.